About the faculty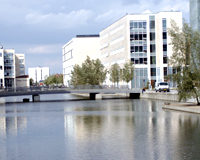 The Faculty of Humanities is one of the original four faculties which comprised The University of Copenhagen at its inception in 1479. The faculty is thus one of the oldest universities in Northern Europe. It is also the largest of the university's eight faculties with approximately 11,000 enrolled students who study nearly 100 different BA and MA programmes.
The core activities at the Faculty of Humanities are research, education and dissemination of knowledge. The faculty has eight academic departments, offering a wide range of educational programmes at bachelor, graduate and PhD levels. Read about admission, study structure, guidance options etc.
Student numbers vary greatly from study programme to study programme. Some language studies such as Dutch and Finnish have around 20 students each, while major study programmes like History or Danish have well over 1,000 students each.
The main campus - also known as KUA - is in Njalsgade and Karen Blixens Vej in the northern part of the Orestad on Amager in Copenhagen. The campus is a 5-minute walk from the metro station Islands Brygge.