Contact us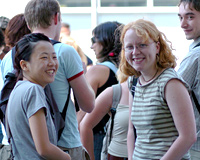 Faculty of Humanities
University of Copenhagen
Karen Blixens Vej 4, DK-2300 Copenhagen S
Phone: +45 35 32 88 11
Fax: +45 35 32 80 52
E-mail: hum-fak@hum.ku.dk
Web: humanities.ku.dk
Reception
You can contact the reception if you need practical information or have questions about the facilities at South Campus (Søndre Campus).
Reception, South Campus
Area 13A-0-53
Karen Blixens Vej 4 DK-2300 Copenhagen S
Tel: +45 35 32 80 00 / 35 32 80 01
E-mail: receptionen@hum.ku.dk
Faculty Full Degree Guidance Counselling
If you are or considering to be a full degree student, you can contact us with any questions both before and during your stay.
Full Degree Guidance Counselling
Karen Blixens Vej 4, Room 14.0.41, DK-2300 Copenhagen S
Tel: +45 40 47 11 97
E-mail: fulldegree@hum.ku.dk
Opening hours for telephone and personal guidance: Monday & Thursday, 10:00-14:00.
Information & Student Services
Please visit us if you need to hand in various applications for Education & Student Services.
Opening hours
Monday to Friday 13-15
Karen Blixens Vej 4, 2300 Copenhagen S
Departmental international student counsellors
See a list of international student counsellors at the departments at our site for current students. Contact them if:
you have questions concerning enrolment, possible elective subjects, courses taught in English, Danish classes, examination marks and complaints about exams
you need general guidance concerning academic matters such as administrative questions, possible elective subjects, Danish classes and examination registration and regulations

you need practical information about courses, schedules, classrooms, teachers, attendance, etc. and social activities...
Dean's Office
If you have questions concerning the Faculty of Humanities in general, you can contact the Dean's Office:
Karen Blixens Vej 4, DK-2300 Copenhagen S
Tel: +45 35 32 80 40
E-mail: redaktion@hum.ku.dk