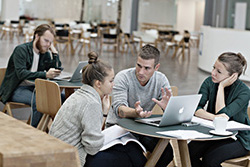 BA programmes
Faculty of Humanities offers a wide range of different Bachelor (BA) programmes. For the time being all BA programmes offered at the faculty are taught in Danish, and it is a prerequisite that applicants fulfill the language requirements.
Further information on admission and language requirements
At the Faculty's Danish website you will find the complete list of BA-programmes offered at the Faculty (in Danish).
For further information and counselling on how to apply for a BA programme please contact the University of Copenhagen Central Study- and Career Guidance Office at sa-info@adm.ku.dk.