Master's programmes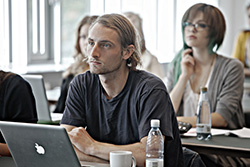 Every year the Faculty welcomes more than 100 international full degree students to our English taught Master's programmes. Situated in the latest state of the art architectural settings the Faculty offers modern study and academic facilities and encourages an international study environment build on academic learning of the highest standards.
Besides a wide range of Danish taught Master's programmes, Faculty of Humanities offers 6 Master's taught in English (full degree programmes).
Please find more information about the individual English taught Master's, including admission requirements, tuition fees and application deadlines at each of websites:
Danish taught Master's programmes
The Faculty of Humanities offers a wide range of Master's programmes taught in Danish. For more information please refer to our complete list of Master's programmes (in Danish).
Re-enrolment
If you have de-matriculated from the Faculty of Humanities due to non-compliance with the requirements on study activity or maximum duration of study period, you can apply to re-enrol.