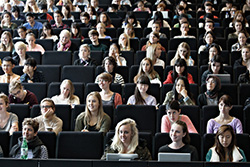 Exchange programmes
Each semester Faculty of Humanities welcomes more than 400 exchange students. If your home university has an exchange agreement with University of Copenhagen you can become one of them.
The Faculty has approximately 200 exchange agreements with partner universities from all over the world, and encourages an international study environment.
What is an exchange student?
Exchange students usually visit the university through the Erasmus or Nordlys/Nordplus exchange programmes, or through a bilateral exchange agreement between their home university and University of Copenhagen. Depending on the individual exchange agreements some or all of your studies in Copenhagen can be taken at Faculty of Humanities for one or two terms.
Courses offered
The Faculty offers a variety of non-Danish taught courses to BA and MA level students visiting the Faculty as exchange students.
In the course catalogue you will find all non-Danish taught courses offered at the Faculty. Note that admission to the courses may be subject to your academic and language qualifications.
Information and admission
More information on admission as an exchange student on the university website for international exchange students.